0
Rose McGowan, a star of upcoming gore-fest "Grindhouse," was a passenger in a car that collided with another, and the accident pushed her eyeglasses into her face. "I didn't realize I was hurt until I put my hand to my face and felt the flap of skin. My glasses had sliced me under my eye," the gorgeous actress tells us. She was terrified of scarring, but found an excellent plastic surgeon.
Do y'all remember all the stories going around
about her face? Well, now we know the truth!
It certainly looks like it has healed well.
Rose McGowan & Rosario Dawson
Hamming it up at ShoWest 2007!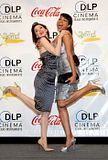 Source: ICYDK
Are you following
Allie on Twitter
yet?